If you want a Las Vegas criminal defense attorney with a proven track record of success, choose Gregory D. Knapp, Esq.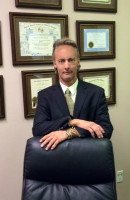 Not only am I significantly more qualified than nearly every other Las Vegas criminal defense attorney, but I also have a fantastic track record including a huge denial record in 2016 alone! A high rate of cases I've handled this year have been dismissed before my clients step foot into a court room.
As a former Clark County Chief Deputy District Attorney, I have experience working on both sides of the courtroom, a background that gives me unique insight into the strategies that are likely to be used against you. Over the course of 10 years serving as a prosecutor, I gained first-hand knowledge of the procedures employed by law enforcement in investigating and prosecuting cases, and I know where to look for errors and weaknesses in the case that can be exploited to your advantage.
Between my time as a prosecutor and my career as a Las Vegas criminal defense lawyer, I have been serving the community since 1998. Unlike many attorneys, I personally handle all my clients' cases. When you come to the office of Gregory D. Knapp, Esq., you will be working with Gregory Knapp. This client-centered approach allows me to get to know you so that I can more effectively tell your story in court. As a result, I have a very high rate of case dismissals. In other words, I am very often successful in clearing my client's name without even taking the case to a full jury trial. For examples of how I have helped clients in the past, take a moment to review some of my testimonials.
Don't Settle for Less! Hire the Best!
I have the experience, success rate, knowledge and connections that set me apart from the rest. Hire Greg Knapp and give yourself the best possible chance.
Experience and Qualifications
Former Chief Deputy

Former prosecutor and team chief for the D.A. I know how prosecutors fight, and that's why I know how to win.

Trusted by All

I have defended numerous high profile celebrities, police officers, detectives, casino executives, doctors, judges, pilots, their children and their families.

Search Warrants

Seemingly illegal search and seizure? My extensive knowledge about the legalities of search warrants allows me to evaluate every aspect of a search/seizure. You don't have to believe me, though. Just read the book on search and seizures that I co-wrote.

Criminal Law Professor

10 years experience teaching Criminal Law to up and coming criminal defense attorneys.

Police Academy Trainer

That's right. I know what police are and aren't allowed to do because I trained them!

Locations Throughout Nevada

Why contain my incredible attorney abilities to Las Vegas when I can travel throughout Nevada? Laughlin, Moapa, and Pioche are all fair game.
Cases I Handle Have an Impressive Success Rate
Drugs

Remember when Bruno Mars was arrested? I had a client at the exact same time with the exact same charges. Bruno Mars served time. My client paid a $250 fine and served no time at all. Moral? Bruno Mars should have hired me.

DUIs

I've gotten cases dismissed even after a 5th DUI! I'm that good.

Supreme Court Cases

State and Federal

Bad Checks or Stolen Cards

Don't worry. You totally didn't know that wasn't your credit card!

Domestic Violence

Just call me the wife beater defender.

Execution and Death Penalty Cases

Not only have I defended clients on trial for the death penalty, I have also seen the other side of these cases as a witness and kidnapping victim by THE Texas Seven.

Murder and Manslaughter

From hit and runs to 1st degree.